Climatology
is the study of climate and how it changes over time. This science helps people better understand the atmospheric conditions that cause weather patterns and temperature changes over time.
---
Basics of Climatology
1. Seasons around the year
1.1. Revolution of Earth & its effect on Seasons
>. The earth moves around the Sun in an elliptical orbit and this movement is responsible for changes of seasons around the year

.
source - quizlet.com
Equinox

:-

March (20-21) - Spring Season
September (22-23) - Autumn Season
Q. What if the Earth was not tilted ?
-

There will be equal length of day and night

.
>.
The area which receive direct ray from the sun, will face high temperature

.
source - primaryleap.co.uk
>
. When the sunlight will fall directly on the Tropic of Cancer then there will be longest day in Northern Hemisphere and longest night in Southern Hemisphere.


2. Climate and Weather
>
.

weather

is what is observed on any particular day.
>
.

Climate

is an average of weather conditions considered over a span of 30 years.


3. State of matter and heat
>
. there are four state of matter i.e., Solids, Liquids, Gases and Plasma but at basics level we have to know or read only about three state of matter - solids, liquids, and gases.
Source - edcraft.io
>
. Role oh heat in conversion of any material from solid to liquid is basically restricted to breakage of bonds which exists b/w all particles of the solid material.
>
. Basically heat is responsible for transformation of any material from one state to another. And the same process get reversed when it comes to cooling process.
3.1. Mode of Heating
I

. Process of Conduction
:- it takes place when two or more bodies of unequal temperature come in contact with each other then, there is a flow of energy from the hotter to cooler body, and this process of flow of energy is known as process of conduction.
II.
Process of Convection
:- it is the transfer of energy through the movement of liquids and gases.
source- sciencephoto.com
III.
Process of Radiation
:- it is the transfer of energy through air and space by light waves (visible, ultra- violet, and infrared waves).

for example

- the release of heat from a bonfire, cooking of food, boiling of water, heat that we get from sun is the best
example
of process of radiation etc..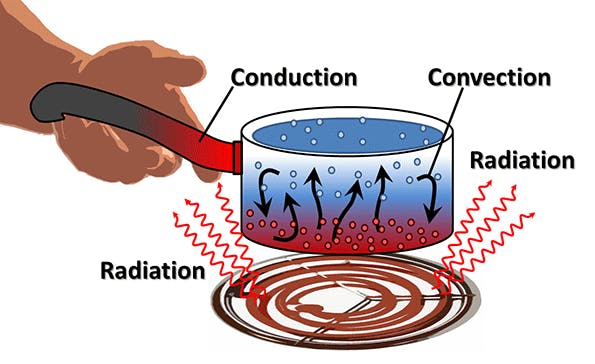 ?? Long wave and Short wave Radiation??
? hotter bodies emits short wave radiations carrying high energy.
? cooler bodies emits long wave radiations carrying lower energy.
5. Temperature
>. the degree of hotness or coldness